As a manufacturer of law enforcement and military personal protective equipment (PPE), emphasizing gloves, we have had the pleasure of developing unique product solutions to meet ever-changing demands. We have been able to work closely with law enforcement and military members to progress the industry with innovative materials and design. There is, however, a glove that we always get requests for that has been more difficult to accomplish than any other, and that would be a hypodermic needle puncture-resistant glove that has tactility.
We have seen gloves that have great hypodermic needle puncture resistance but many feel like you have a layer of cardboard on your fingertips, and some would not even be able to fit in a trigger guard. Other gloves have decent tactility but a 28 gauge hypodermic needle slides easily through the protected areas. Many of these gloves that offer little protection are marketed as "puncture resistant" but are tested to standards that do not measure protection against hypodermic needle puncture and are not appropriate for use in identifying suitable puncture resistant for use by Law Enforcement or Corrections officers.
Understanding PPE glove testing standards, and what is suitable for use by law enforcement and corrections officers is very important to make the correct choice. Many PPE suppliers in the law enforcement industry market items as "puncture resistant" and the common inference would be that it would help protect officers from accidental sticks, when in fact they may not. Many common tests used for puncture resistance are really tailored to PPE for other industries where a hypodermic needle would not be a common threat. In tests such as the European EN388 and ASTM F 1342 a probe much larger than a hypodermic needle is used to measure the force necessary to penetrate the glove material. A high tenacity knit material could perform very well on this type of test, but the knit material would do little to stop a 28 gauge hypodermic needle, leaving an officer susceptible to contamination by a dirty needle.
Fortunately we now have tests available like ASTM F2878 which is an effective test that utilizes a 28 gauge hypodermic needle to measure puncture performance. We also now have standards like ASTM E3108-18 Standard Specification for Protective Gloves Worn by Law Enforcement and Corrections Officers that can help guide law enforcement and correction officers when acquiring PPE gloves.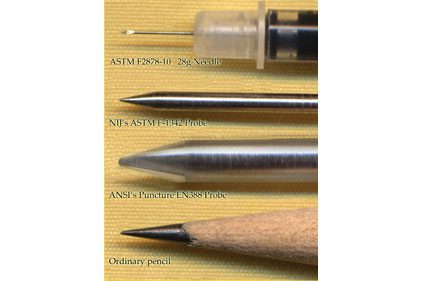 Fortunately recently we at HWI Gear, Inc. have been able to substantiate through these new testing standards that we have found a new technology to move the industry forward. Our new Puncture Pro (HPG100) Hypodermic Needle Resistant Glove has shown superior protection and improved flexibility and tactility compared to other industry leaders offerings. We tested as "high" on the new ASTM E3109-18 standard, testing well over the minimum requirement for this highest designation. The Puncture Pro tested also to level A9 on ANSI/ ISEA 105-2016 classification. Additionally the Puncture Pro tested to the highest level 5 on the EN420 dexterity test. There is much improved flexibility with this glove and it provides no issue with using any firearm, additionally the Puncture Pro in touchscreen capable so you do not need to remove the glove to use a touchscreen device.
We are very excited about our new development which has been a product of our passion to bring the most innovative products to the industry.